Scaling
Northwest Log Scalers provides region-wide, full-service scaling and related reporting for the timber industry on the west coast of the US.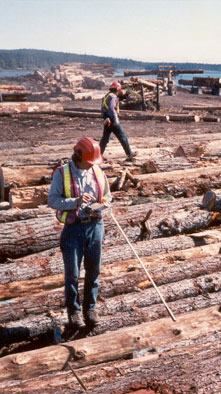 Scaling: Eastside, Westside, Cubic, Metric, JAS and GOST
Check Scaling
Certification
Special Reporting
Tag and Non-Tag Deck Reporting
Flexible Transmission Formats
Flexible Size Reporting
Quality Control
Weight Sample
Custom Reports
Forest Service
Government Reporting for:

Department of Natural Resources
Department of Revenue
Bureau of Indian Affairs
Oregon Department of Forestry
California Department of Forestry
---
Technology
At NW Log Scalers the timber industry meets technology and customers enjoy the piece of mind that comes with having options. NW Log Scalers technological process means log data can be imported from any source into a personal system for easy access.
---
Steps
Scaling - gather the log volume.
Data Processing - send the volume to a PC and calculate volume, sorts, diameters and sample expansion.
Reporting - present log volume data in clear, useful reports that are fully customizable.
---
Company Scalers
Customers have the option of using NW Log Scalers software imported to their systems, whether or not they own a scaler. For those who prefer not to import the software module, NW Log Scalers will download the customer's scaler into its system and produce the reports needed. Payments to loggers or landowners can then be generated using the payables portion of the module.
Quality Checks
NW Log Scalers offers check scales for company scalers to help monitor the quality of the scaler. The company can also provide programmed, hand-held scaling computers for use in customer-owned scalers.
In-House Reporting
Having NW Log Scalers complete customers' reporting could be useful in temporary, intermittent or low volume situations. It may also be useful for a customer that just doesn't have the time or desire to do the processing, report printing and billing.
Customer Reporting
Customers who prefer to control their own data and generate reports internally can receive assistance from NW Log Scalers in translating scaler data from one or multiple sources into one simple format and transmitting it to customers' systems.